GAP Retreat: Gratefulness, Abundance & Prosperity - October 12 & 13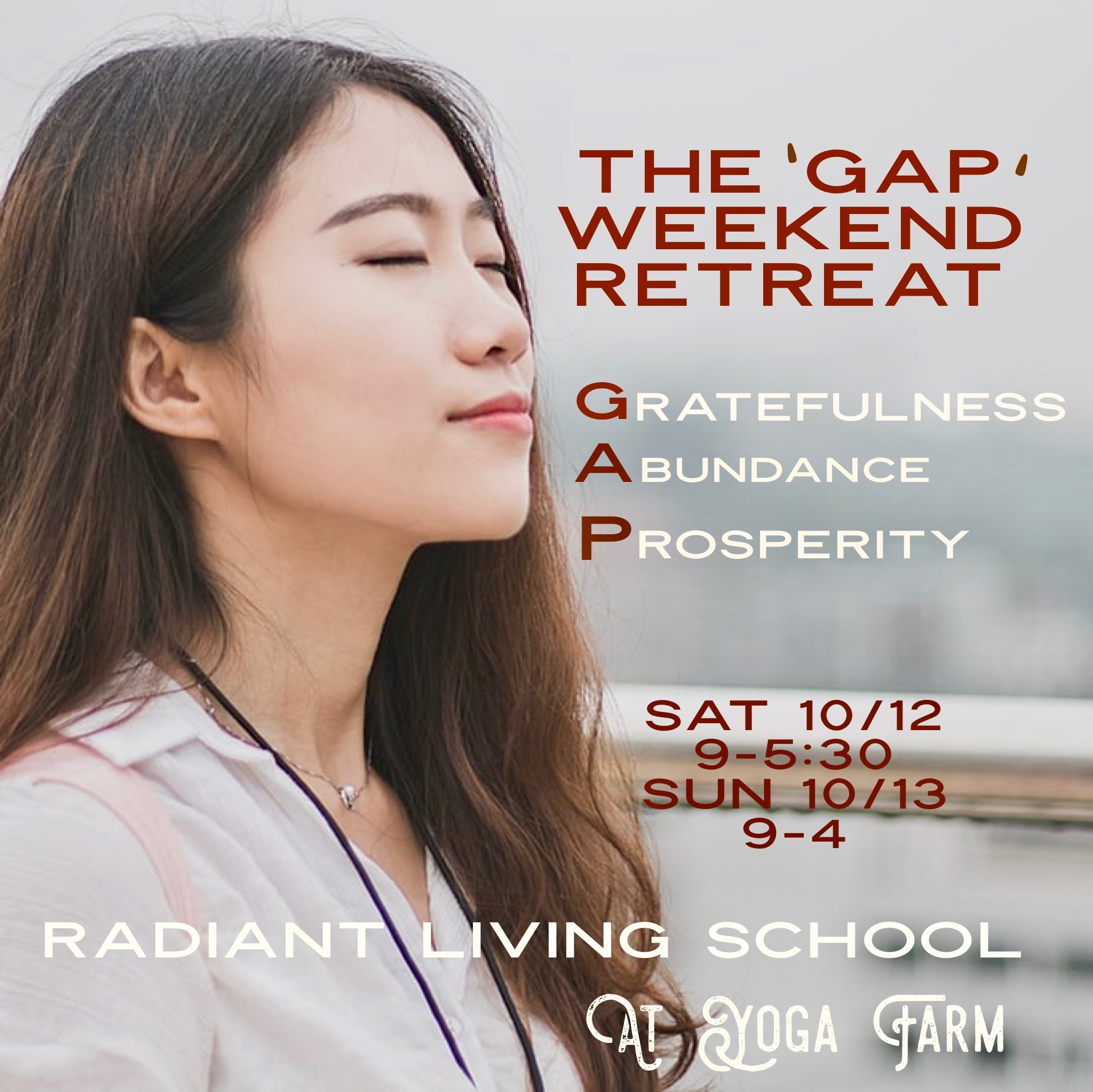 GAP Retreat: Gratefulness, Abundance & Prosperity - October 12 & 13
What if you could actually manifest your dream life – whatever that looks and feels like for you - and feel Abundant in all realms – rich in financial Abundance, creative Abundance, fulfilling career and connecting relationships!
At the end of this workshop, you will:
Come to understand Gratefulness as the ground and foundation of Abundant and Prosperous living

Tap into Gratefulness that can include all of the external circumstances in your life, without exception

Uncover limiting beliefs about lack so you can abide in the truthfulness of your true nature

Identify any barriers in your mental and energy body that is a barrier between you and the lived experience of your abundant True Nature

Experience shifts in your mental, emotional and energy body
Fall Harvest provides the perfect opportunity to recognize the abundance all around us, and experience authentic Gratefulness. It is from this place that we can set intentions, and manifest our lives the way we truly want - our dream life.
There are some very effective energy tools in Kundalini yoga that can help you ride the waves of uncertainty and change with calm, clarity and equanimity. You'll move into a grace filled expansive reality where you remember that you are Unlimited. Your unique talents and gifts are guided by Love and are a vehicle to Source.
This Daytime Fall Retreat consists of:
Meditations & Visualizations

Practical tools to connect with Gratitude

Experience the Abundance you already are

Music

Outdoor time on the farm to enjoy the fall landscape

Energy Movement Practices that everyone can learn and practice

All aimed at teaching you how to manifest the life you desire!
Meets Saturday 8:30-5:30pm, then Sunday 9-4pm
We will provide a tasty lunch each day for your enjoyment - please bring snacks or tea or water for your comfort and specific needs
This retreat will be followed by an optional 6-week course on Monday evenings to deepen and integrate what you learned.
This retreat has a nonrefundable registration fee of $25. This is not the course tuition.
💰 The tuition is self determined by You, based on what is 'Honest & in Integrity for You', and what the value of the course is in your life. Read more about our tuition philosophy. Past participants have given between $100 and $1000 as a 'thank you' for their program.